Kataloge

>

AUTODESK

>

3DS
Katalogauszüge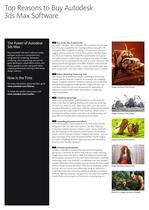 Top Reasons to Buy Autodesk 3ds Max Software The Power of Autodesk 3ds Max Buy Autodesk® 3ds Max® software today, and gain access to a comprehensive, integrated 3D modeling, animation, rendering, and compositing solution for game developers, visual effects artists, and motion graphics artists along with other creative professionals working in the media design industry. Now Is the Time For more information about 3ds Max, go to www.autodesk.com/3dsmax. To locate the reseller nearest you, visit www.autodesk.com/reseller. > Out-of-the-Box Productivity Autodesk® 3ds Max® 2013 software offers powerful, easy-to-use, out-of-the-box capabilities for creating professional quality 3D animation. With Graphite modeling, CAT advanced character rigging, and the powerful Particle Flow system, 3ds Max helps you focus on creativity. Meanwhile, customizable workspaces and tabbed layouts make it easy to configure and switch between interfaces that are optimized for the way you work. Moreover, the Nitrous accelerated graphics core offers dramatic improvements in performance and visual quality—so you can handle larger data sets, iterate faster, and make better creative decisions in context. > Robust Modeling/Texturing Tools Well known for its extensive polygon modeling and texturing toolset, 3ds Max features Graphite, an extensive 3D modeling toolset. Graphite combines freeform sculpting, texture painting, and advanced polygonal modeling with a highly efficient user interface. Powerful tools provide parametric replication of objects in a scene while model optimization is made easy with ProOptimizer. > A Material Advantage When every pixel matters, professionals turn to the powerful tools in 3ds Max for lighting, shading, and rendering. Achieving the look you need has never been easier with 1,200 real-world Autodesk Materials to select from, while 80 Substance procedural textures provide a vast range of look variations. What's more, creating and editing complex materials is as simple as drag-anddrop with the intuitive Slate schematic material editor. > Compelling Dynamics and Effects From the powerful, event-based Particle Flow system, to the integrated Hair, Fur, and Cloth systems, 3ds Max helps you bring more realistic dynamic motion to your scenes. And with the development of the MassFX unified system of simulation solvers, and its first two modules—mRigids and mCloth—you can take advantage of the multi-threaded NVIDIA® PhysX® engine to create compelling, dynamic rigid-body and cloth simulations directly in the 3ds Max viewport. > A Rendering Revolution 3ds Max continues to revolutionize the world of rendering, giving you a vast array of options that help you create stunning images faster than ever before. With the integrated mental ray® photorealistic raytracer and the iray® "point-and-shoot" rendering technology both from NVIDIA®; a traditional scan-line renderer; and the Quicksilver GPU renderer, you can choose the best-suited tool for the job at hand. Moreover, with new ActiveShade support for iray, you can iterate more effectively using an interactive rendering session that constantly updates as changes are made to cameras, lighting, materials, and geometry. For even more options, choose from an evolving list of third-party rendering plug-ins. Image courtesy of Ravi Kamal. Image courtesy of Lee Griggs. Image courtesy of Ravi Kamal. Image courtesy of Motor VFX. FAR CRY 3. Image courtesy of Ubisoft.
Katalog auf Seite 1 öffnen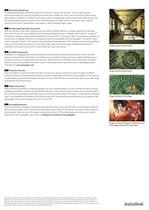 > Animation Made Easy Creating sophisticated, believable, character animation is easier with 3ds Max. You can rig characters more quickly with CAT and use CAT Muscle and the Skin modifier for more precise control of realistic body deformations. Animate CAT, Biped, and 3ds Max objects using layered motion capture data while preserving the underlying animation keyframes. And creatively sequence, blend, and mix animation clips using the intuitive NLA system, MotionMixer, with biped or other animated object types. > Flexible Pipelines with Smart Data With the 3ds Max Smart Data initiative, you...
Katalog auf Seite 2 öffnen
Alle Kataloge und technischen Broschüren von AUTODESK

Bis zu 10 Produkte vergleichen