Kataloge

>

Experts in Plastic Production (engl.)
Katalogauszüge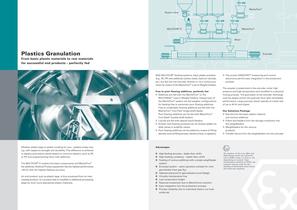 feeding systems, basic plastic powders(e.g., PE, PP) and additives (carbon black, titanium dioxide,etc.) are fed into the extruder directly or via a continuous mixer by means of the MechaTron The proven DISOCONT > ή measuring and controlelectronics permit easy integration in the production process.The powder is plasticized in the extruder under highpressure and high temperature and modified in a physical mixing process. The granulator at the extruder discharge cuts the plastic strand into granular form with remarkableperformance. Large granular plants operate at a feed rateof up to 40 t/h...
Katalog auf Seite 2 öffnen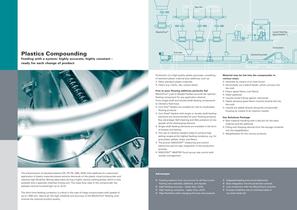 Day bin ExtruderQuenching bathGranulatorLiquid feedingMULTIGRAV MechaTron ή L Material may be fed into the compounder invarious ways: Other standard plastic materials Vertically by means of an inlet funnel Fillers (e.g. CaCO > 3 , talc, carbon black) Horizontally via a lateral feeder, which conveys into the melt Free to poor flowing additives perfectly fed > ֮ Fibers (glass fibers, coal fibers) MechaTron Loss-in-Weight Feeders provide the optimalfeeding component for any application desired. From single-shaft and double-shaft feeding components to vibratory feed trays. Other additives...
Katalog auf Seite 3 öffnen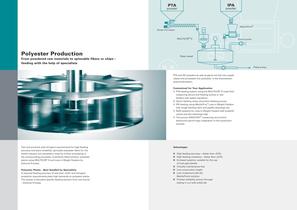 PTA and IPA powders as well as glycol are fed into a pastevessel and processed into polyester, in the downstream polycondensation. Customized for Your Application PTA feeding system using the MULTICOR > S mass flowmeasuring device and feeding screws or star feederswith speed regulation Glycol feeding using volumetric feeding pumps IPA feeding using MechaTron > ή Loss-in-Weight Feederswith single feeding helix and paddle discharge aid. Refill systems for Loss-in-Weight Feeders with butterfly valves and silo discharge aids. The proven DISOCONT > measuring and controlelectronics permit easy...
Katalog auf Seite 4 öffnen
Alle Kataloge und technischen Broschüren von Schenck Process Holding GmbH

Archivierte Kataloge

Bis zu 10 Produkte vergleichen